St. Brigid's Tankard. P180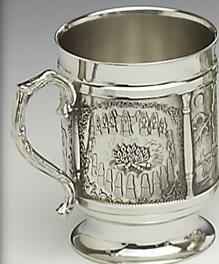 St. Brigid's Tankard is a wonderfully detailed piece depicting Ireland's only female patron saint.
 St. Brigid of Kildare was an Early Christian nun, and is the only female patron saint of Ireland. Her feast day is February 1st, and is widely celebrated around Ireland. She founded many monasteries around Ireland, particularly in Kildare. She is the patron saint of babies, blacksmiths, brewers, Florida, infants; Ireland; Leinster, midwives, nuns, poets, the poor, sailors, scholars, and  travelers.
HANDMADE IN IRELAND
PRICE INCLUDES SHIPPING