Pewter Baby Christening Cup Collection.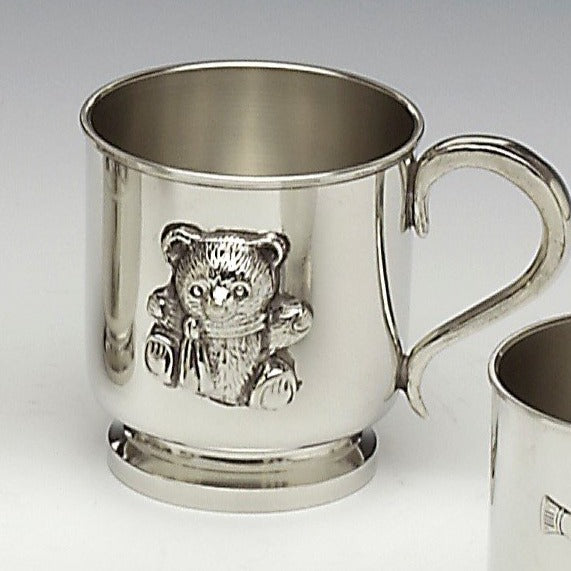 Product Code C02
The Pewter 3" High Baby Cup is available in 5 styles (Plain not shown)
These beautifully hand-crafted cups make a perfect Christening gift, and can be engraved for you to treasure for a lifetime.
Please select your style choice from options.  
-Shamrock (Product Code C02S)
A classic Irish motif, the Shamrock has been recognised as the symbol of Ireland for centuries. It is said that Saint Patrick, Ireland's patron saint, used the shamrock to describe the Holy Trinity - The Father, The Son, and The Holy Spirit - each represented by a leaf.
-Celtic (Product Code C02L)
The Celtic designs seen on our products are taken from the Kells manuscripts, the most famous Irish artefact. Celtic symbols and designs have been around for centuries, and were first found on Ogham stones, in manuscripts drawn/written by the monks or in old monasteries around Ireland.
-Teddy (Product Code C02T)
In 1902, President Theodore Roosevelt refused to kill a bear he and his team found in the forest. This act of kindness is what inspired the "teddy bear"! Kids across the world have grown to love teddy bears, and this design is perfect for a newborn child or for a christening.
-Claddagh (Product Code C02Cl)
The design is that of the Claddagh taken from the famous love symbol designed in the town of Claddagh, Co. Galway by Richard Joyce back in the year 1689. The design is often used for wedding rings as it is based on the ring that Richard made for his bride to be. The symbolisms are "hands for friendship", "heart for love" and "crown for loyalty".
Also available in plain.  Just quote "plain" in notes  Product code (C02Pl)
HAND MADE IN IRELAND
PRICE INCLUDES SHIPPING.